Inauguration of the 34th Term Committee Members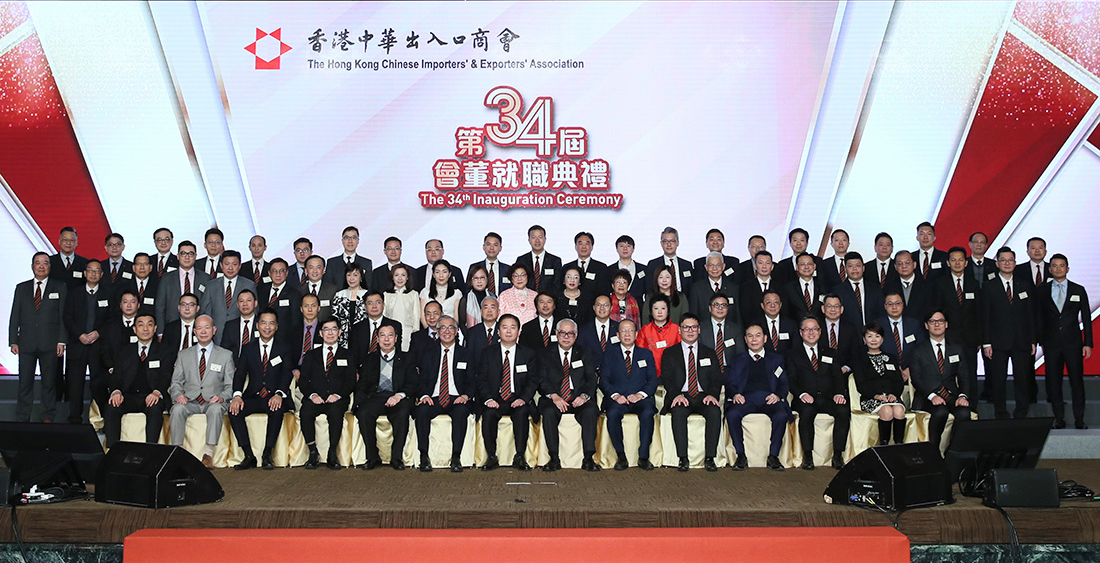 The Hong Kong Chinese Importers' & Exporters' Association held it's inauguration of the 34th term committee members on 28 Jan 2019 at Hong Kong Convention Exhibition Centre. Carrie Lam, Chief Executive of HKSAR, Tan Tieniu, Deputy Director of the LOCPG, Zhao Jiankai, Deputy Commissioner of the PRC's Ministry of Foreign Affairs presented to be the officiating guests. Lam Lung On, representative of the NPC, Chairman of Yuzhou group was elected to be President of HKCIEA.
Guests of Honour:
Zheng Xincong, Vice governor of Fujian province
Zhang Shaoqin, Vice chairperson of China National Democratic Construction Association
Wei Dapeng, Vice chairman of CPPCC of Tianjin province
Liu Zhaohui, Deputy Chief of Staff of the Chinese People's Liberation Army Hong Kong Garrison
Li Zijun, Vice Mayor of Jinan city
Chen Fei, Deputy Director of the United Front Work Department of Fujian Committee
Lu Shiow-yen, Mayor of Taichung
Bruce Linghu, Vice mayor of Taichung
Lin Por-fong, Chairman of Chinese National Association of Industry and Commerce, Taiwan
Han Jingyi, Vice mayor of Xiamen city
Representatives of LOCPG, government officials, members of legislative council, representatives of NPC, leaders of chambers, dignitaries of the community and professionals, mainland government officials such as Guangdong, Fujian, Tianjin, Zhejiang, Shandong, Chongqing and Taiwan government officials and chamber representatives graced the occasion with their presence, Over 2,000 guests attended the inaugural ceremony.
Updated list of the directors
Chairman: Lam Lung On
Vice Chairmen: Chan King, Eddy Li, Michael Hui, Kennedy Wong, Kenneth Chan, Ng Hon Leung, Andy Kwok, Pui Kwan Kay, Leung Lun, George Lau
Honorary Secretary: Chan King
Vice Honorary Secretary: Andrew Chan, Tony Pang, Sally Yeung, Chan Yuk Yan