"HKCIEA‧Focus" : The Development of Shenzhen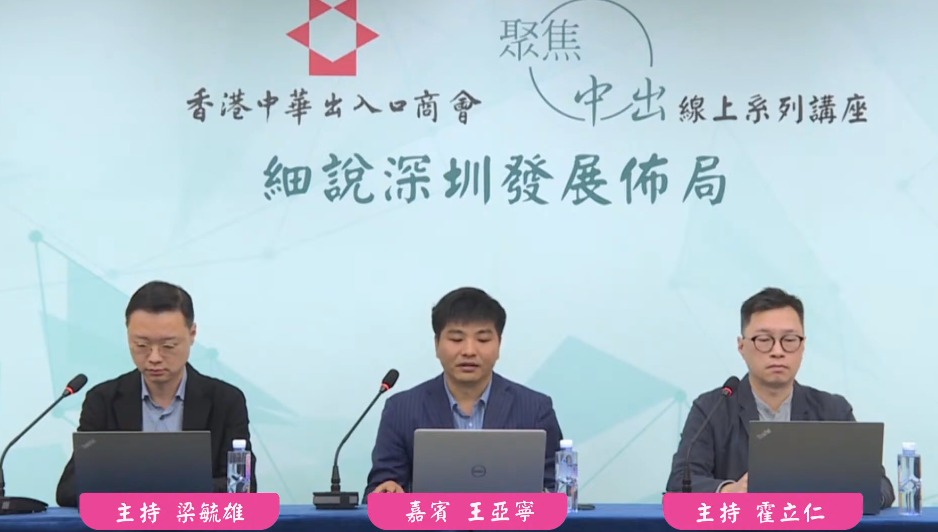 The development of the Greater Bay Area is attracting much more attention. In March, "HKCIEA‧Focus", the online seminar series focused on Shenzhen and Mr. Wang Ya-Ning, a venture capital elite and founding partner of China Thrive Fund was invited as the guest speaker to share his perspectives and feelings on the development of Shenzhen. The seminar was hosted by Mr. Leung Yuk Hung Paul, Vice President of HKCIEA and Mr. Fok Lap Yan Ivan, Director of HKCIEA.
Mr. Wang Ya-Ning shared his perspective on the venture capital of Shenzhen first. In his opinion, Shenzhen's vigorous development in the past 40 years is mainly due to the fact that the Shenzhen government has broken down the five barriers of household registration, region, identity, academic title, and system, and made great efforts to attract talents. As a result, Shenzhen has made brilliant achievements. Data disclosed by the Shenzhen Science and Technology Innovation Commission shows that the output value of Shenzhen's high-tech industry exceeded ¥2.62 trillion in 2019, with a year-on-year growth of 10.08%, 3.3 percentage points higher than the GDP growth rate. Yuehai Street Office governs the most concentrated science and technology parks in Shenzhen, with more than 3500 state-level high-tech enterprises and more than 112 listed companies. Meanwhile, Shenzhen is striving more attention to innovation and focusing on building a number of major infrastructure projects in basic research fields: 6 state-level key laboratories, 2 provincial laboratories, and 10 Nobel Prize laboratories, and setting up 13 new basic research institutions in frontier fields such as third-generation semiconductors, artificial intelligence, big data, clean energy, brain science, and synthetic biology.
The industrial chain of cross-border e-commerce and cross-border logistics in Shenzhen is increasingly being perfected, and the pandemic has also further stimulated the development potential of an intelligent economy such as 5G, AI, the Internet, big data, and cloud computing. Among which, a total of 9387 new enterprises were established in the "new generation of information technology" industry supported by 5G and Internet technology from January to May in 2020, with a year-on-year growth of 23.9%. Shenzhen has become a bellwether of science and technology in the country.
During the interaction session, being asked by a member which sectors are the best for Hong Kong people to invest in Shenzhen at present, Mr. Wang suggested that Hong Kong, as an international financial center, by taking advantage of the opportunity of the Mainland's development of a double-circular economy, could invest in Shenzhen's high-tech and consumption upgrading industries supported by the Mainland's policies, such as carbon-neutral projects (including new energy and photovoltaic) and help mainland enterprises raise funds as well. At the same time, Hong Kong enterprises in the Mainland can also open up the mainland and overseas market with the help of Shenzhen e-commerce talents.