YAC Lecture – Life under quarantine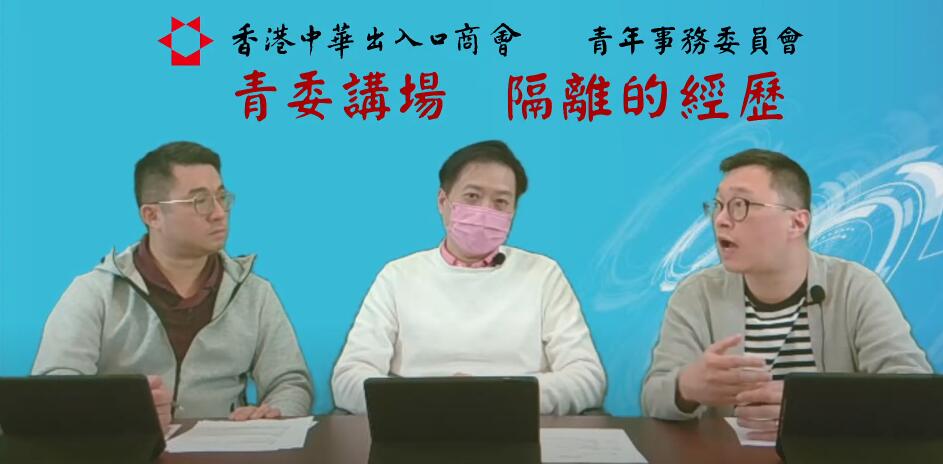 The Youth Affairs Committee (YAC) of the Hong Kong Chinese Importers' & Exporters' Association (HKCIEA) has launched the YAC Lecture, an online platform that invites different speakers to share their views on current topics.
The first lecture was held on February 5 under the theme of "quarantine experience". Three guest speakers, HKCIEA Director Mr Ng Kwok Hung Mike, and Vice Chairmen Mr Li Chi Fung Michael and Mr Fok Lap Yan Ivan, who travel frequently between Hong Kong and the mainland China for business, spoke of their hotel quarantine experience, and the quarantine measures and policies they were subjected to.
In August 2020, Ivan went to Guangzhou via Shenzhen and was quarantined in a designated hotel in Machong, a town between Shenzhen and Guangzhou. In December 2020, Mike flew to Shanghai and stayed at a five-star hotel in Xuhui District.
A member asked the three guests whether one can stay in a hotel of their choice. According to the trio, that varies from region to region. In Guangzhou, for example, one must stay in a designated quarantine hotel near their final destination. In Shanghai, however, one may stay in a hotel of their choice, but that again depends on their final destination.
All three speakers noted that in quarantine hotels, there is a plastic stool outside every guest room. Meals for guests are placed on the stools, and guests have to wait until the delivery workers are gone before opening the door of their room and picking up the food. The hotel Mike stayed in offered Chinese and Western options for the three meals provided to guests. There was also an à la carte menu and guests could order dishes at their own expense. Ivan pointed out that quarantine meals are served by designated restaurants. He learned that some hotel guests under quarantine fell sick and had to be hospitalised after eating takeaway food ordered from other restaurants. As a result, all quarantine meals are now supplied by designated restaurants only and takeaway orders are not allowed.
Over the past months, Shenzhen has tightened border control due to the pandemic. Currently, all visitors to the city have to book a hotel for quarantine for 14 days with Shenzhen's official health system, and also obtain a nucleic acid PCR test report issued by a designated healthcare institution 24 hours before arrival. Travellers from Hong Kong to Shanghai are subject to a simpler procedure – they only have to take a PCR test upon arrival. During the quarantine period, they have to undergo regular temperature checks and PCR tests. If everything is normal, they will be issued a certificate indicating the end of their quarantine period. They also need to apply for a health QR code ("Guangdong Health Code" (粵康碼) in Guangdong Province and "Shanghai QR Code" (隨申碼) in Shanghai). Only green code holders are allowed to visit places such as restaurants and shopping malls.
Travellers from the mainland to Hong Kong who are not granted a quarantine exemption by the Hong Kong government (such as an exemption authorisation letter issued by the Trade and Industry Department) can still be exempted from quarantine by logging in to the Return2hk Scheme website and providing relevant information 7 days before coming to Hong Kong. One must make sure to have a PCR test report (preferably the original copy) issued by a designated test provider within a specified period.
Another member attending the forum asked the guests how life under quarantine was like. All three guests said they were able to work in their room, have online work meetings with colleagues, and schedule their free time according to their personal interest. Michael said he brought with him many books to read; Mike did indoor exercise using his own workout machine; Ivan signed up an online course. All three said their 14-day quarantine was an opportunity for them to take a breather from their busy life in Hong Kong!