"Embracing 5G for the Future" Concluded with a Great Success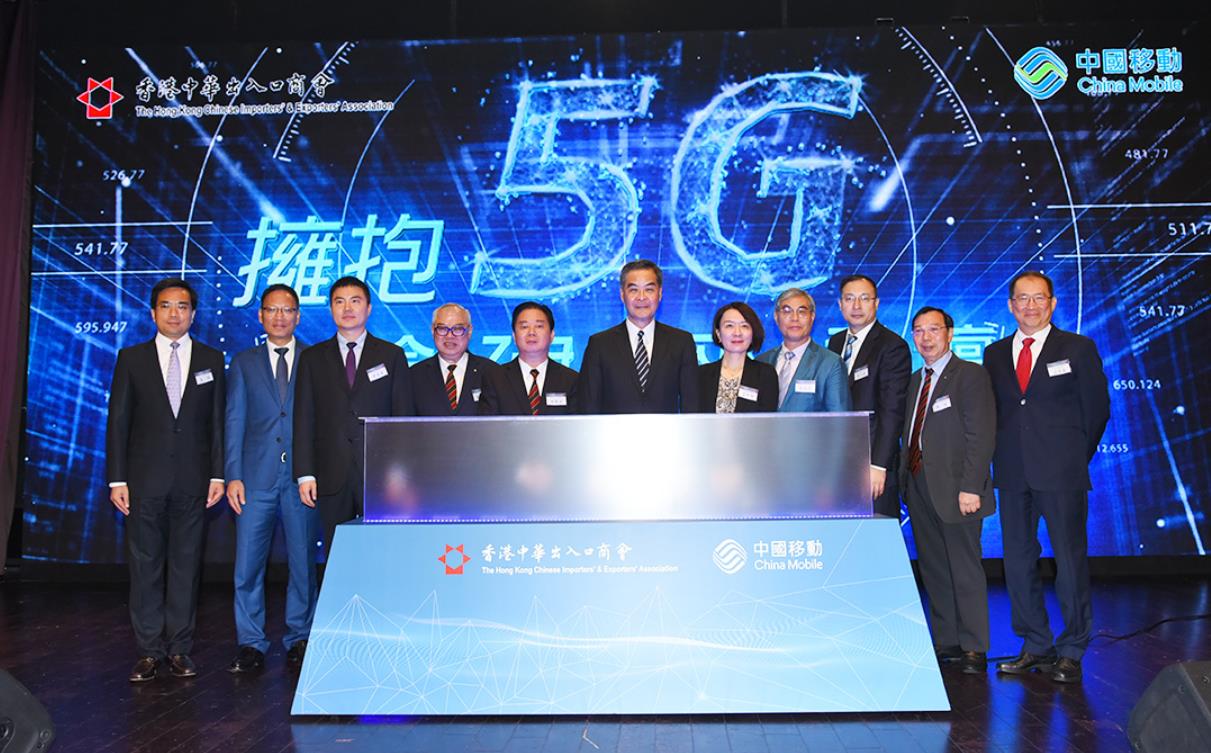 5G era is coming, 5G technology is the key to unlock the intelligent life and will bring innovation and business opportunities to related industry. The Hong Kong Chinese Importers' & Exporters' Association cooperating with China Mobile Hong Kong conducted "Embracing 5G for the Future" Summit on 28th May, 2019 at Grand Ballroom, Grand Hyatt Hong Kong. The Summit attracted hundreds of audiences from different sectors such as politics, business, academic. The organizers even live broadcast to secondary schools in Hong Kong and the Greater Bay Area.
Themed by "Embracing 5G for the Future", the Summit analyze how 5G technology pivots application and terminal innovation, changing the community by changing lifestyle, building a smart city and foresee the future development on technology and how should Hong Kong improve itself to be an innovative center and smart city by making good use of 5G technology skills.
We have invited Prof. Lu Tingjie, Dean, School of Economics and Management of Beijing University of Posts and Telecommunications, Mr Deng Taihua, CEO of Digital Product Line of Huawei and Dr Justin Chuang, Vice President, Communication Technology of Hong Kong Applied Science and Technology Research Institute as guest speakers. We are honored to invite Mr C Y Leung, Vice Chairman of the CPPCC and Ms Lu Xinling, Deputy Director of the LOCPG in HKSAR as officiating guests for the opening ceremony.
Mr Leung mentioned that 5G technology can wildly adopt in living and production and it creates unlimited possibilities such as telehealth and unmanned driving. However, it still has to face lots of challenges in application and interfere the government's regulatory policy. Hence, the government should consider relating to whether and, if so, how the regulatory policy should be enhanced as well as the national safety. He commended HKCIEA Summit, holding since 2014, has spotted the latest trend. The 5G topic of this year has consider the social needs and prepare for a diversified and long-term preparations.
3 guest speakers delivered innovative speech. Prof. Lu introduced how 5G technology will support the restricting of data economy. Mr Deng shared when 5G technology coordinates with Artificial Intelligence, Big Data, Cloud Calculation, etc. will allocate the upgrading of every industries, thus building up the network of smart world to reach Internet of Things. Dr Chuang shared during the technological revolution process, how Hong Kong can develop into a innovation center and smart city such as establishing Internet of Industry, Internet Platform for Smart City and Telematics platforms.
During the panel discussion session, audience could raise questions through our WeChat account. Our host, Mr Ge Qi, Head of Strategic Engagement, Greater China of GSMA would pick up questions focus on education, innovation and smart manufacturing and ask about the opinions of the guest speakers. Lu concluded 5G technology would change the learning model as it breaks the constrains of time and space. Students can develop learning interest using fragmented time, improving while having fun, raising education level. Chuang expressed that technology startups should focus on 5G application development, utilize the high speed and massive data of 5G, allowing artificial intelligence, Internet of Things, Cloud Technology integrate into daily life, transforming Hong Kong into a world class smart city. Deng thought industrial manufacturing is the most economical industry provided by 5G. As repeating production progress is the easiest step to approach automation, 5G can fulfill smart manufacturing by using infinity linkage, enhancing locating capability, increasing output at the same time reducing labor cost. It is predictable that 5G economic benefit will reach 2,200 billion USD in 2034.
The representatives of the organizers, Mr Lam Lung On, President of HKCIEA, Mr Li Fung, Chairman of China Mobile Hong Kong expressed their message in the brochure that "4G changes life, 5G changes society", hoping the summit will provide a deeper understanding on 5G industry, seize the opportunity brought by 5G technology and build a 5G new era.
Mr Lam Lung On, President of HKCIEA, Mr Max Ma, Director & Executive Vice President of CMHK, Hon. Wong Ting Kwong, Member of the Legislative Council and Honorary President of HKCIEA, Mr Chan King, Vice President and Honorary Secretary of HKCIEA, Mr Michael Hui, Dr Kennedy Wong, Mr Ng Hong Leung, Mr Andy Kwok, Mr Pui Kwan Kay, Vice Presidents of HKCIEA, Mr Chong Shing Hum, Honorary President of HKCIEA attended the event.