Reception in Celebration of The 70th Anniversary of The Founding of The People's Republic of China Given by HKCIEA
Reception in Celebration of The 70th Anniversary of The Founding of The People's Republic of China given by HKCIEA was held on 16th September. Mrs Carrie Lam, Chief Executive of the HKSAR, Mr Tan Tieniu, Deputy Director of the LOCPG in the HKSAR, Mr Yang Yirui, Deputy Commissioner, Office of the Commissioner of The Ministry of Foreign Affairs of the PRC in the HKSAR, Mr Paul Chan, Financial Secretary of the HKSAR officiated the ceremony. Hundreds of industry elites were joined.


"This year marks the 70th anniversary if the founding of the People's Republic of China. Over 40 years of reform and opening up, our country has remarkable achievements in economic and social development. Hong Kong's position as the bridge connecting Mainland China and other countries. Hong Kong is also a key conduit of foreign investment into and out of Mainland China, offering a platform from which Mainland enterprises can 'go global'. Hong Kong should actively participate integrate into the development of Greater Bay Area and "Belt and Road" Initiative, strengthen its status as a global offshore Renminbi (RMB) business hub and its role as an international asset management centre and a risk management centre, make great efforts to develop innovation and technology industries and international legal and dispute resolution services, enhancing Hong Kong's status as International Financial Centre," CE mentioned.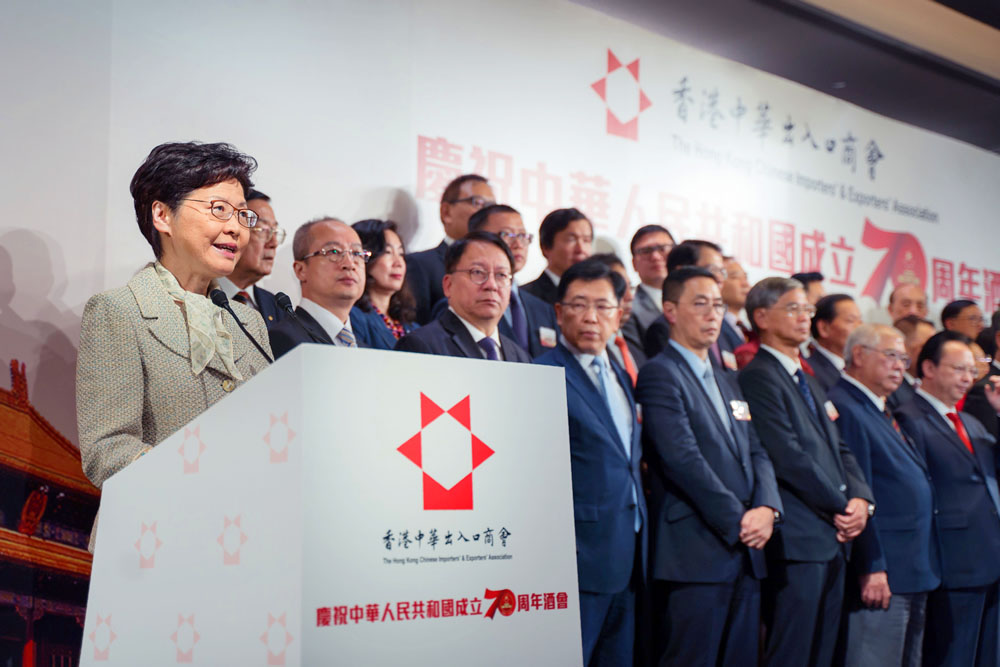 Mr Lam Lung On, President of HKCIEA claimed in his speech that 22 years since Hong Kong returned to China, when Hong Kong encountered challenges, our motherland fully supported us, Hong Kong was able to overcome the obstacles. Under "One country, two systems", Hong Kong's commercial and industrial industries have less restrictions, leveraging on the Mainland while engaging the huge markets of Belt and Road countries. We felt more confident in the future of Hong Kong.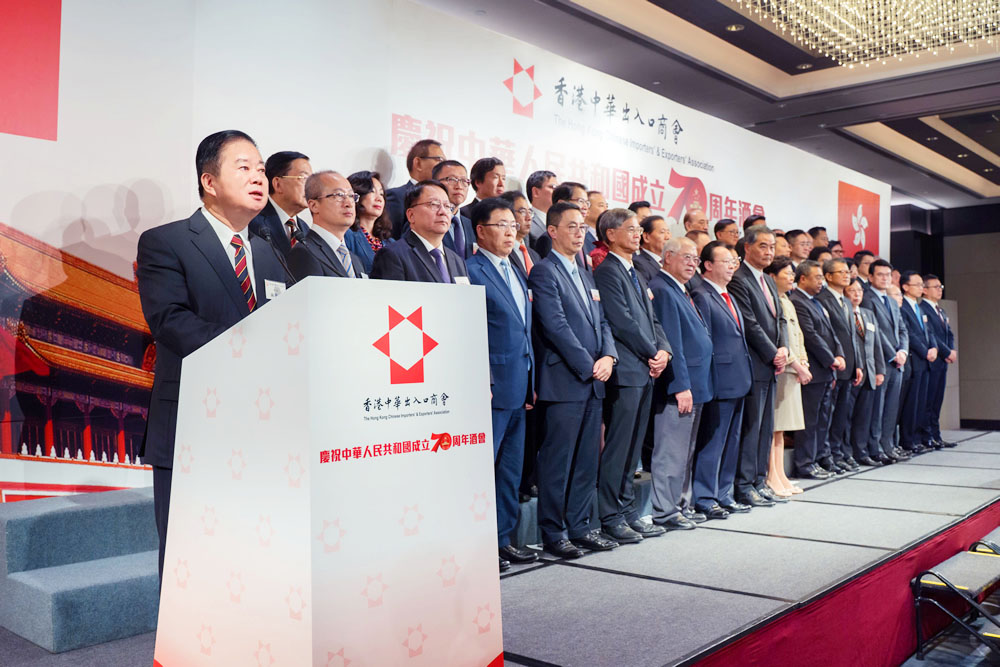 Mr Lam also mentioned Hong Kong was experiencing a disastrous riot, industries are facing difficult situations as the trade negotiations between China and the United States remain a stalemate. HKCIEA supports every initiatives to benefit livelihoods by the government especially the support for SMEs and strongly condemns violent acts by radical protesters, affecting livelihoods of citizen, destroying national flags and emblems, disrespect the central government, deal a severe blow to the authority of the SAR government. We appealed every sector to protect our homeland, stop violence and curb disorder, resuming public order.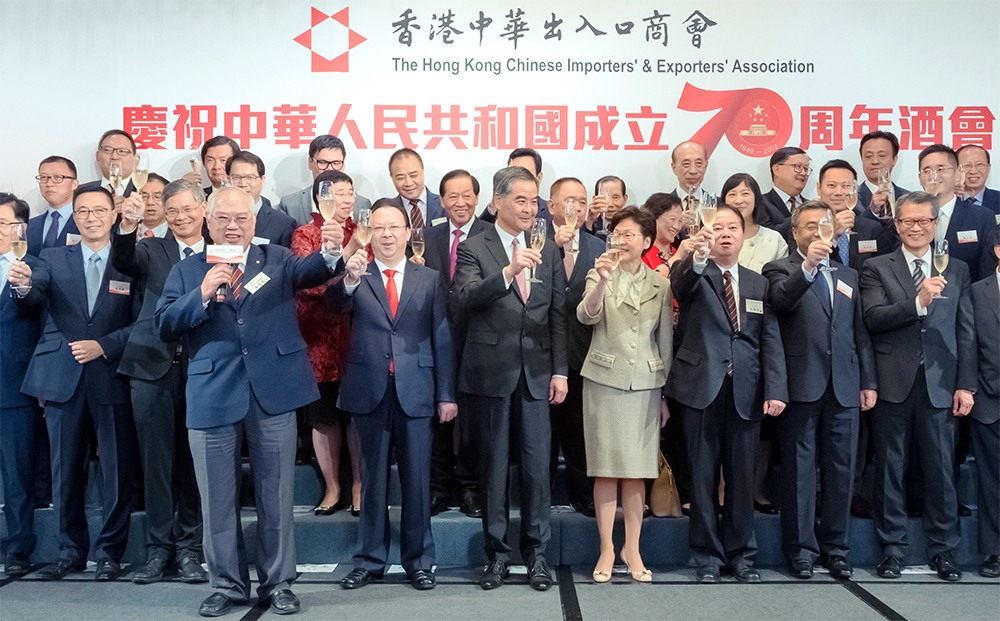 The reception was kicked off by Hon. Wong Ting-kwong, Honorary President and Member of the Legislative Council (Import and Export).
List of guests attending the reception:
Mr C Y Leung, Vice Chairman of the CPPCC
Mrs Carrie Lam, Chief Executive of the Hong Kong Special Administrative Region
Mr Tan Tieniu, Deputy Director of the LOCPG in the HKSAR
Mr Yang Yirui, Deputy Commissioner of Office of the Commissioner of the Ministry of Foreign Affairs of the PRC in the HKSAR
Mr Paul Chan, Financial Secretary
Mr Law Chi-kwong, Secretary for Labour and Welfare
Mr Edward Yau, Secretary for Commerce and Economic Development
Mr Patrick Nip, Secretary for Constitutional and Mainland Affairs
Mr Liu Chunhua, Director-General of the Law Department of the LOCPG in the HKSAR
Mr Liu Lin, Director-General of the Hong Kong Island Sub-office of the LOCPG in the HKSAR
Mr Li Jiyi, Director-General of the New Territories Sub-office of the LOCPG in the HKSAR
Mr Hermes Tang, Commissioner of Customs and Excise
Mr Eric Chan, Director of the Chief Executive's Office
Ms Eliza Lee, Permanent Secretary for Commerce and Economic Development (Commerce, Industry and Tourism)
Ms Michelle Li, Permanent Secretary for Financial Services and the Treasury(Financial Services)
Mr Sonny Au, Under Secretary for Security
Mr Casper Chui, Under Secretary for Labour and Welfare
Mr Bernard Chan, Under Secretary for Commerce and Economic Development
Mr Joseph Chan, Under Secretary for Financial Services and the Treasury
Mr Jack Chan, Under Secretary for Home Affairs
Ms Salina Yan, Director-General of Trade and Industry
Mr Zhang Qiang, Deputy Director-General of the Coordination Department of the LOCPG in the HKSAR
Mr Lei Haiqiu, Deputy Director-General of the Research Department of the LOCPG in the HKSAR
Mr Yang Chengwei, Deputy Director-General of the Youth Affairs Department of the LOCPG in the HKSAR
Ms. Wang Xiaoling, Deputy Director-General of the Kowloon Sub-office of the LOCPG in the HKSAR
Mr Yu Kwok Chun, Standing Committee Member of the National Committee of the CPPCC
Mr Ng Leung Ho, Standing Committee Member of the National Committee of the CPPCC
Ms Lam Suk Yee, Standing Committee Member of the National Committee of the CPPCC
HKCIEA Representatives:
Mr Lam Lung On, President
Mr Chan King, Vice President and Honorary Secretary
Mr Michael Hui, Vice President
Mr Kennedy Wong, Vice President
Mr Ng Hon Leung, Vice President
Mr Pui Kwan Kay, Vice President
Mr Leung Lun, Vice President
Mr George Lau, Vice President
Mr Wong Ting-kwong, Honorary President
Mr Cheung Hok Sau, Honorary President
Mr Joseph Lee, Honorary President
Mr Chong Shing Hum, Honorary President
Mr Ng Lin Fung, Honorary President
Mr Li Foon, Honorary President