Best United Marketing Ltd
Best United Marketing Ltd. is established in 2005. We are the Medical Face Mask Manufacturer in Hong Kong. We achieved US FDA Certification, CE, ISO 14644-1 Clean Room Class 8 Standard. Our medical face mask achieved US Nelson Labs and SGS ASTM F2100 Level 3 and EN14683 Type IIR standard.  The company also engaged in the wholesale business of pharmaceutical product importers. The company registered and corporate headquarters in Hong Kong. The main Brand Products include Medical Face Mask, Anti-inflammation Plaster, Chili Plaster, Corn Plaster, Glycern Enema and Enema. The pharmaceutical products have more than 35 brands, and the main sales markets are in hospital, university, secondary school, organizations, community and pharmaceutical wholesalers.

Best United Marketing Ltd's mission is to "Alleviate human suffering and Improve people's health and well-being." Our company establishes a brand management system that includes brand design, OEM, Private Label and also establishes a comprehensive Medical & Biological innovation research includes quality inspection and corporate with US, Taiwan, Japan, Korea and Asian Pharmaceutical factory in order to create a variety of pharmaceutical Brands such as "WELIKE Medical Face Mask", "LORCORN Medical Face Mask", "HOHOTAPE Medical Plaster", "Animal King Chili Plaster", "CARE Corn Plaster, Glycern Enema and "WEILI Enema" and explore the global pharmaceutical markets. All pharmaceutical products are registered with the Hong Kong Department of Health and achieve GMP and global regulatory PIC/S standards.
Best United Marketing Ltd 's medical and pharmaceutical products occupy a leading position in the Hong Kong market and have received social and health-care industry recognition. Our pharmaceutical products' quality assured and our company advocates innovative leadership in meeting social accountability standards. We believe our co-operation will bring long term benefits for both parties and health-care industry.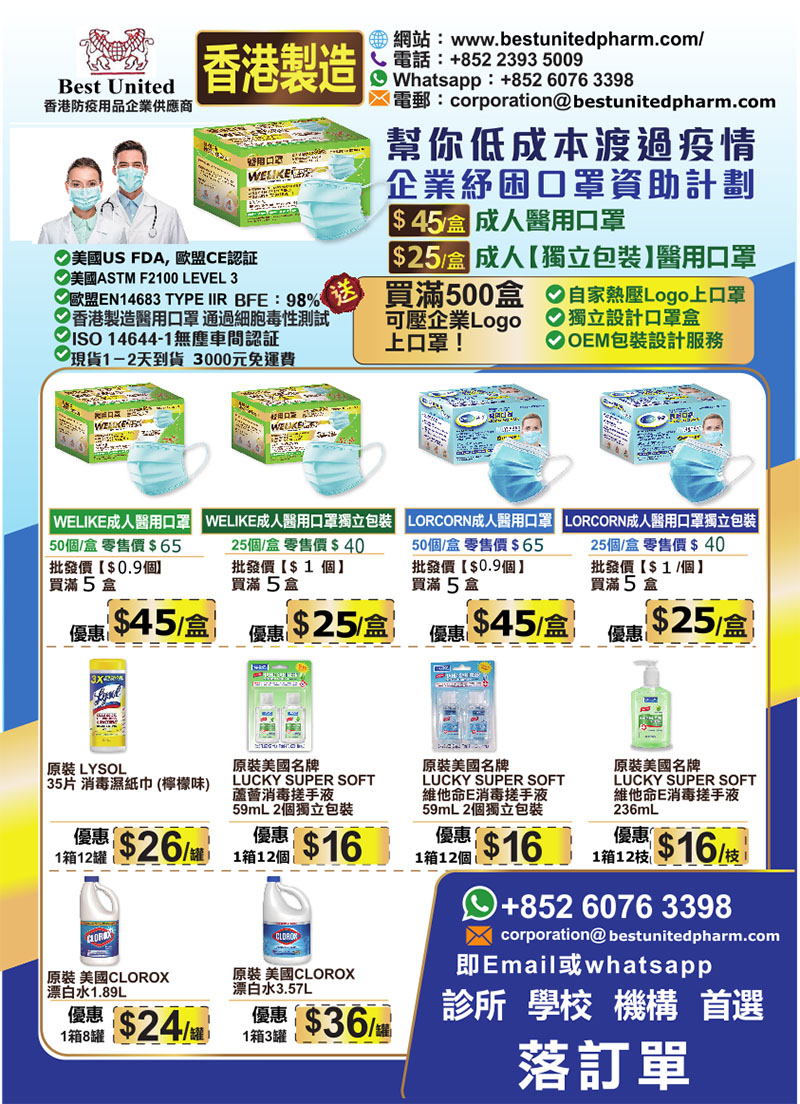 Contact  
Ms Spring Cheung, Director, Department of Corporate Planning,
Best United Marketing Ltd
Email: springcheung@bestunitedpharm.com
Tel: +852-64699723
Wechat: springjang123
Website: www.bestunitedpharm.com
Address: 14/F, Block A, Tsing Yi Industrial Centre Phase 1, Hong Kong