"HKCIEA‧Focus": New Paradigm New Opportunities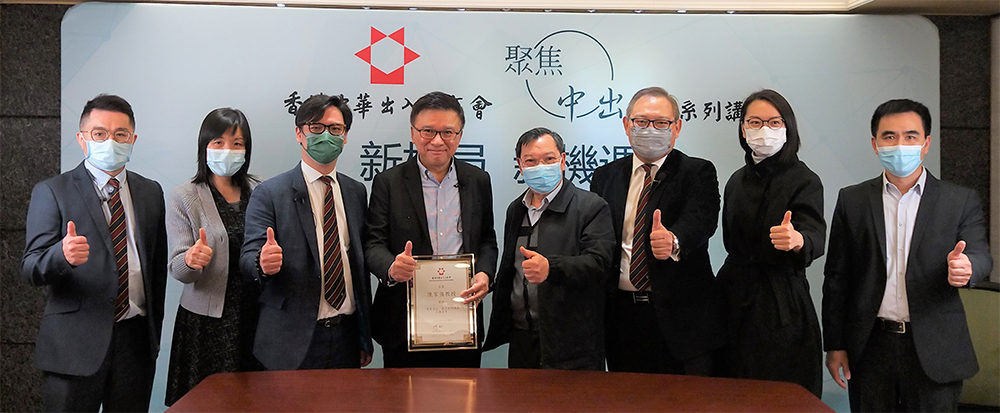 In 2021, the Hong Kong Chinese Importers' & Exporters' Association (HKCIEA) launched a series of online seminars with a theme of "HKCIEA‧Focus", which invited renowned experts and academics, government officials, and successful entrepreneurs as guest speakers to share their views on political and economic issues.
The first seminar was held on 29 January at the Association's conference room. As the new President of the United States takes office and the global environment begins to face new changes, we invited Professor Chan Ka-keung, an expert of global economics, to share his views on the US-China relations, the trend of global economic development, as well as the opportunities and challenges faced by Hong Kong and how enterprises should cope with it, there was Q&A session for interactions with our members.
Professor Chan noted that the US' China policy would not change significantly, but President Joe Biden was expected to be more moderate in his approach to China than the Trump administration, so as to avoid conflicts that could lead to a military clash. The Democratic Party is more pragmatic and has a rich experience in diplomacy, economics and military affairs. Therefore, it is expected to improve US-China relations.
Professor Chan also observed that Hong Kong had always been an international city within China, and that the role of Hong Kong between China and the US hadn't changed much. A good "dual circulation" policy is the key to Hong Kong's ability to "have it both ways" in the rivalry between the two powers. Hong Kong's financial market facilitates the integration of Chinese capital and the development of its industries, helping to promote internal circulation, while the financial services industry continues to attract foreign investors to the external circulation system.
Professor Chan suggested that Hong Kong businessmen, who wished to integrate into the internal circulation system, could start from the Guangdong–Hong Kong–Macau Greater Bay Area, and make use of Hong Kong's technology and business practices to develop in tandem with the Mainland's resources. Professor Chan also pointed out that countries such as India and ASEAN, with their high productivity and large populations, would enjoy faster economic growth after the Covid-19 pandemic ended. Therefore, Hong Kong businessmen who wish to invest in these regions can seize the opportunity by heading south.
In response to a member's question on whether the recent influx of mainland capital into Hong Kong's financial market would be beneficial to the real economy, Professor Chan replied that the influx of capital was not a bad thing for Hong Kong, and that the financial sector would boost the economy. However, he also reminded everyone that situations could occur whereby the financial market trends are different from the real economic situation, and suggested that we should not judge the situation solely by the financial market. As for his views on financial technology and the Internet economy, Professor Chan believed that digitization was a major trend that improved people's daily lives and helped companies expand their customer bases.
On the role of the Regional Comprehensive Economic Partnership (RCEP) for Hong Kong, Professor Chan said that the RCEP was highly significant because it proved that there was room for cooperation between countries. However, it is only the first step and doesn't benefit Hong Kong at the moment, and further development of the RCEP, such as the addition of service industries, will make the deal more comprehensive.
The seminar was hosted by Mr Chan Siu-shan, Chairman of Industrial and Commercial Affairs Committee, and Mr Pang Chor-fu, Chairman of Members Affairs Committee, and was also attended by nearly 100 members via a live streaming platform.