[Belt and Road] Overseas Economic and Trade Cooperation Zones 9/20 China-Russia Tomsk Forestry Economic and Trade Zone
The Economic and Trade Cooperation Zone established in Tomsk, Russia by AVIC Forestry is the first and biggest development project under the framework of Sino-Russian utilization of forest resources. The Cooperation Zone is practically advanced under the framework of Sino-Russian General Planning of Cooperative Exploitation and Joint Utilization of Forest Resources, which signed on May 23, 2008 under the witness of Chinese then-president Hu Jintao and Russian then-president Medvedev. And meanwhile the cooperation zone is one of China's key construction projects aimed at promoting overseas economic and trade cooperation.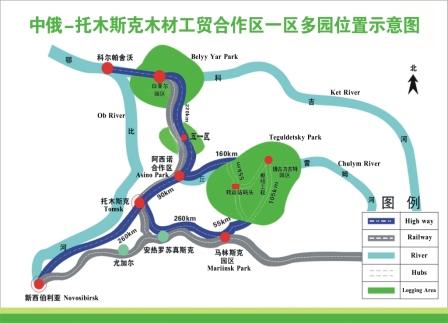 The planning area of the Economic and Trade Cooperation Zone is 6.95 km2. Now the company owns the world's most advanced machinery for logging, wood processing and transportation. The company has perfect infrastructure and service facilities. The annually planned capacity of harvesting and processing of the program is 4.5 million m3, to produce various types of saw timber, rotary cut veneer, high and medium density Fiberboard, particleboard, wooden fiber board, furniture, and pulp in accordance with international standard for both domestic and overseas markets.
Further Information: http://www.avic-forestry.com